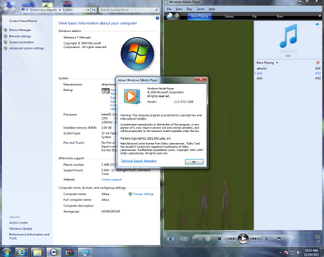 Like lots of other people, I have Windows 7. My type of Windows 7 is Ultimate 32-bit (as said in the picture to the right). Of course, it has Windows Media Player, but it is not version 12, its version 11! I followed the
directions given
to install Wmp11 on Windows 7, and voila, working. I got the PDC'03 skin from Deviantart and installed it to get my current WMP.
The following is my current visualization menu
No Visualization
Album Art
Alchemy
Bars and Waves
Battery
BlazingColors
Full Screen (Alt+Enter)
My Skins
The following is my collection of Windows Media Player skins
9SeriesDefault
Alien Morph
Alienware Invader for WMP
Alienware Darkstar WMP11
Atomic
Blinx
Compact
Corporate
Disney Mix Central
Doobie Brothers
Ducky
Ginger Woman
Heart
Jodelle Ferland 12
QuickSilver
Revert
Ad blocker interference detected!
Wikia is a free-to-use site that makes money from advertising. We have a modified experience for viewers using ad blockers

Wikia is not accessible if you've made further modifications. Remove the custom ad blocker rule(s) and the page will load as expected.